Darion, Brutal Enforcer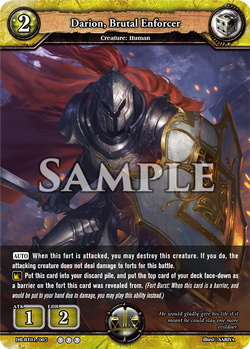 Card Abilities

When this fort is attacked, you may destroy this creature. If you do, the attacking creature does not deal damage to forts for this battle.


Put this card into your discard pile, and put the top card of your deck face-down as a barrier on the fort this card was revealed from.
Ad blocker interference detected!
Wikia is a free-to-use site that makes money from advertising. We have a modified experience for viewers using ad blockers

Wikia is not accessible if you've made further modifications. Remove the custom ad blocker rule(s) and the page will load as expected.