Eldrun, Lord of the Blaze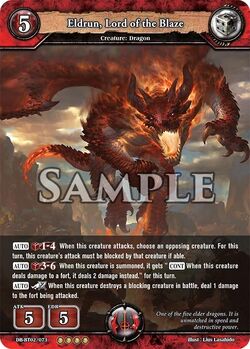 Card Abilities

[DICE Red 1-4] When this creature attacks, choose an opposing creature. For this turn, this creature's attack must be blocked by that creature if able.


[DICE Red 3-6] When this creature is summoned, it gets "

When this creature deals damage to a fort, it deals 2 damage instead." for this turn.


When this creature destroys a blocking creature in battle, deal 1 damage to the fort being attacked.
Gallery
Ad blocker interference detected!
Wikia is a free-to-use site that makes money from advertising. We have a modified experience for viewers using ad blockers

Wikia is not accessible if you've made further modifications. Remove the custom ad blocker rule(s) and the page will load as expected.