Gifted Geomancer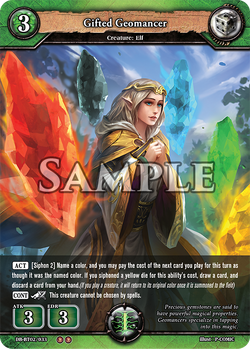 Card Abilities
[ACT][Siphon 2] Name a color, and you may pay the cost of the next card you play for this turn as though it was the named color. If you siphoned a yellow die for this ability's cost, draw a card, and discard a card from your hand.
[CONT] [Dragocross] This creature cannot be chosen by spells.
Sets
Booster Pack Vol. 2: Oath of Blood - (DB-BT02/033 - U)
Flavor: Precious gemstones are said to have powerful magical properties. Geomancers specialize in tapping into that magic.
Illust: P-COMIC
Ad blocker interference detected!
Wikia is a free-to-use site that makes money from advertising. We have a modified experience for viewers using ad blockers

Wikia is not accessible if you've made further modifications. Remove the custom ad blocker rule(s) and the page will load as expected.